Print
Notes
Four steps to perfect vegan gnocchi! Let's do this!
Bake Your Potatoes!
Some people boil potatoes for vegan gnocchi, but that introduces a whole extra load of water which can ruin the texture of your gnocchi. This recipe used baked potatoes instead, which are always fluffier and make for beautifully light gnocchi. We're also roasting some butternut squash for the sauce, so it's super economical to bake them too!

Skin and Mash the Potatoes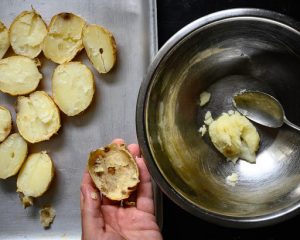 Once baked, slice the potatoes in half and remove the flesh. It should be super soft and fluffy, so very easy to mash. Use a masher or a fork to mash the flesh until very smooth.

Add The Flour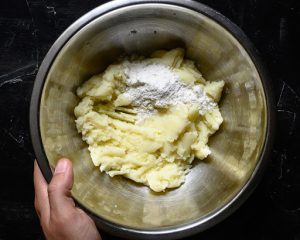 It's best to add the flour a little at a time. You may not need all the flour – you may need MORE flour, depending on how much moisture was retained by your potatoes. You want to aim for a dough that's lovely and smooth but not sticky. If it's sticky, add some extra flour!

Shape the Vegan Gnocchi
The easiest way to shape gnocchi is to divide the dough into quarters and roll each quarter into a thin snake. You then need to cut the snake into around 1cm nuggets. To get ridges on the gnocchi, you can either roll them down a gnocchi board or just use the back of a fork.

Boil the Gnocchi
We're almost there! Bring a large pot of salted water to the boil and cook the gnocchi in two batches. When one batch is done, remove the gnocchi from the water using a slotted spoon or a spider and place the cooked gnocchi into a bowl. Drizzle with a little olive oil to stop the gnocchi from sticking together and repeat the process with the second batch.

Fry the Gnocchi
The gnocchi are now technically ready to eat, but I love to fry them off before dressing with a sauce. Throw the gnocchi in a hot frying pan and fry until golden brown.