Print
Like with non-vegan crepes, the batter is better when left to rest for 10 minutes or so. Before you start frying up crepes, let it rest!
Knowing when to flip your crepe is easy! Just wait for the top to turn matte and no longer wet or shiny looking. This means it's just about cooked all the way through.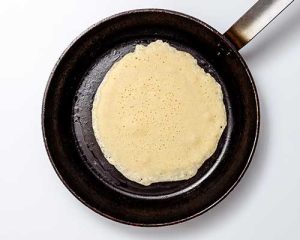 On the second side, you're looking for those mottled, golden-brown marks to indicate the crepe has that perfect balance of crisp and softness. Be sure to carefully lift the crepe every now and then to make sure it's browning nicely.
These crepes are basically sugar-free so they work well for both sweet and savoury fillings. I love roasted rhubarb with a little vegan yogurt. Feel free to add a touch of icing sugar to maple syrup to sweeten things up.