Print
Notes
This is a super simple salad but it's important you follow the steps above in sequence. Here's why:
Start with the Garlic and Shallot Dressing
It might seem odd starting a salad with the dressing, but there's a point to this. The aromatics from the garlic and shallot are essential parts of this recipe but they can easily overpower the subtlety of the tomatoes. Allowing the garlic and shallot to sit in the vinegar for a few minutes removes some of their potency and provides a much more gentle oniony vibe.
Harvest that Tomato Juice!
This recipe is all about bold tomato flavour, so there's no way we're going to let that juice go to waste. When we salt our tomatoes, it draws out all those juices, which we will use in our dressing. Let the juice drip through onto the shallot and garlic to add an extra tomato fresh sweetness to the dressing. Oh and the fresher your tomatoes, the juicier they'll be – so splash out and buy some fancy boys from the farmers market!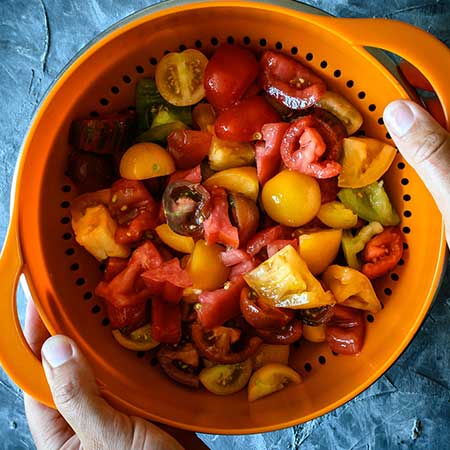 Toast Your Sourdough (And Make Sure It's Stale!)
The idea behind the bread in this recipe is that it provides a serious crunch but also packs a flavoursome punch. We achieve this by firstly using stale bread. All those little end pieces from your sourdough loaves which are too small to toast – keep them and use them in Panzanella! We also toast the bread, once cubed, and toss it in plenty of black pepper. This way, when it comes into contact with the dressing, it soaks up loads of flavour but doesn't go soggy in a flash.
Dress it Good!
The last step is to whisk up the dressing with some decent extra virgin olive oil! Drizzle it over the shallots which should now be sitting nicely in tomato juice! Drizzle slowly and whisk constantly to make sure the dressing is beautifully smooth. Dress the salad and you're good to go!