Print
Notes
Here are a few tricks for getting perfect rhubarb rolls!
First Proof
This dough can be rather sticky, but don't worry. Once you've mixed the ingredients together, just leave it to rest for 10 minutes. This gives the flour time to fully hydrate which helps to prevent the dough from becoming too sticky. Once you've kneaded the dough, it's time for the first proof. Cover the dough with a damp tea towel and leave until it's doubled in size – around 1.5 hours.
Make the Jam
The jam is super easy to make, just throw together the fruit and sugar in a large saucepan and bring to a simmer. You're aiming for a jam without any chunks, so let it simmer until the apples and rhubarb have lost their shape completely. Once cooked, cool the jam to room temperature and then chill in the fridge.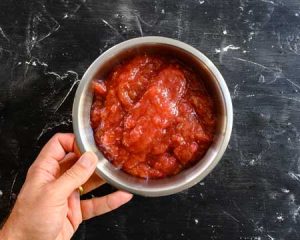 Form the Rolls
Once the dough has proofed and the jam is lovely and chilled, transfer the dough to a lightly floured work surface and roll into a large rectangle. Spread some of the cooled jam onto the rectangle and roll-up. Divide the roll into 12 and arrange in a deep baking tray. Cover and allow to prove again for around 30 minutes.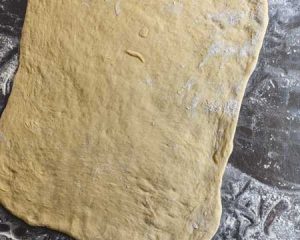 Bake the Rolls
Once proofed, place in the oven at 350ºF (180ºC) and allow to bake for 25 to 30 minutes. The tops of the rolls should be golden brown and the jam should bubble out slightly. Remove from the oven and allow to cool fully before glazing and serving!