You know we're obsessed with mushrooms here at Wicked Kitchen. Mushrooms are, hands-down, the single most sustainable, natural, and meatiest alternative to animal proteins. Wicked co-founder, Derek Sarno, pioneered the groundbreaking "press and sear" cooking technique that transforms raw mushrooms into satisfying mushroom steaks.
There's so much more you can do with the fungus among us. To show just how much, Derek, his brother Chad, and a team of Wicked chefs recently served an exclusive 11-course plant-based mushroom dinner to a dozen shroom leaders and aficionados at the Wicked Kitchen Events space in Austin, Texas.
Here's one of the dinner's elegant plated starters, Black Pearl Oyster Mushroom Sashimi with White Soy, Yuzu, and Fried Shallot. Oyster mushrooms star as delicate sushi-grade fish!
And for a different kettle of fish altogether: King Oyster Mushroom Scallops and Bacon with Agave Mustard Sauce, featuring seasoned and seared king oyster mushrooms wrapped in crispy mycelium (mushroom) bacon from MyForest Foods. This one was soooo good.
What's in those delicate, hand-pleated pillows of deliciousness? Wild Mushroom Dumplings with Shallot Butter Sauce, Crème Fraiche, and Mala Sauce was a true stunner.
In a nod to home cooking, Derek and Chad also served this comforting bowl of Nana's Chicken and Rice Soup with Shredded King Oysters and Parmesan. Is there nothing that mushrooms can't do?
Fast Food? You bet. Here's a plate of Wicked Fried Chicken, complete with Whipped Potatoes, Gravy, and Cole Slaw. If you want comfort food, you got it.
But can mushrooms stand in for red meat? You better believe it. Just take a look at these juicy Lion's Mane Steaks with Garlic Herb Butter and Potato Pavé.
Since the dinner was in Austin Texas, the menu also featured this super-simple-yet-craveable BBQ Plate of Burnt Ends with BBQ Sauce, Pickles, and Onions. This was OMG-delicious.
Of course, there was more. Guests were treated to crispy Lion's Mane Karaage with Chile Salt and Miso Mayo; Shawarma Tacos with Harissa Spiced Portabellos, Tzatziki, and Tomato-Cucumber Salad; Mushroom Canelones with Fresh Pasta and Bacon Bechamel; and a dessert of Berry Mousse in Salted Chocolate Cups with Wicked Kitchen Cookie Dough Ice Cream. No mushrooms in that last one, but it was a stunning finale!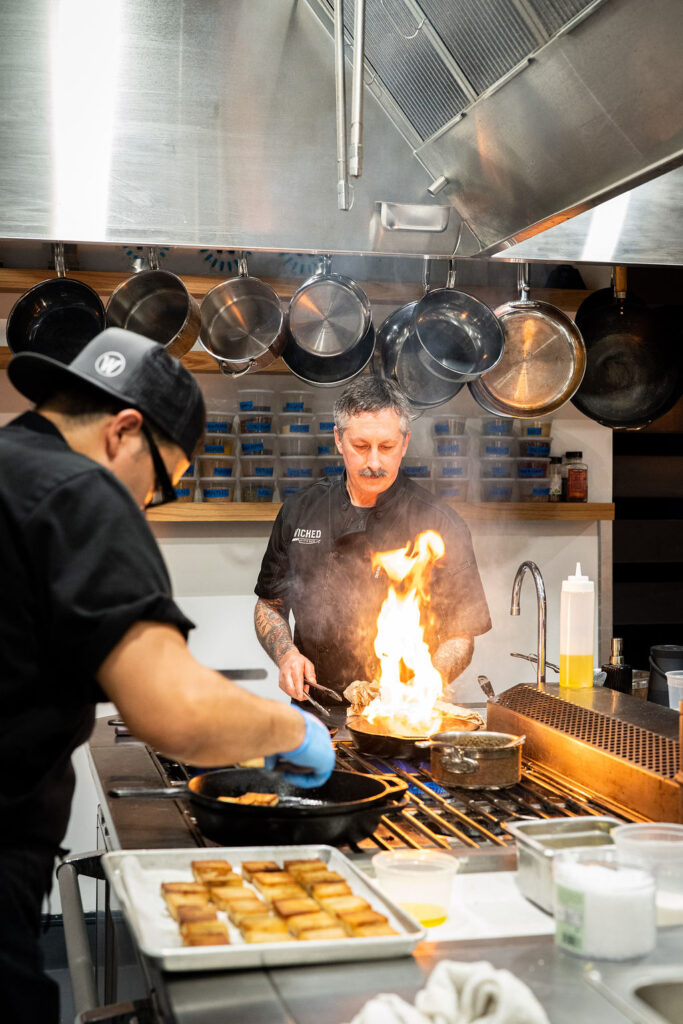 All in all, this meal was an extraordinary gastronomic journey. The Wicked Kitchen team was thrilled to showcase the culinary versatility and incredible taste of a variety of different mushrooms. Esteemed guests included members of the U.S. Mushroom Council; Sean Henry from Hi-Fi Mycology Culinary & Medicinal Mushrooms; and actor and comedian Tone Bell.
Check out Derek's recap of this exclusive mushroom dinner here on YouTube. You can find all our best "Mushroom Mafia" recipes here on our website. And if you're interested in attending an upcoming Wicked Kitchen Supper Club, book a seat here!