We're excited to announce the first Wicked Kitchen concession stand! We've partnered with the NBA's Minnesota Timberwolves basketball team, and our plant-based concession debuted this season at the Target Center stadium in Minneapolis. Stop by if you're in the area! The Wicked Kitchen U.S. headquarters is also located in Minneapolis, so we're proud to launch Wicked Kitchen foodservice on our home court.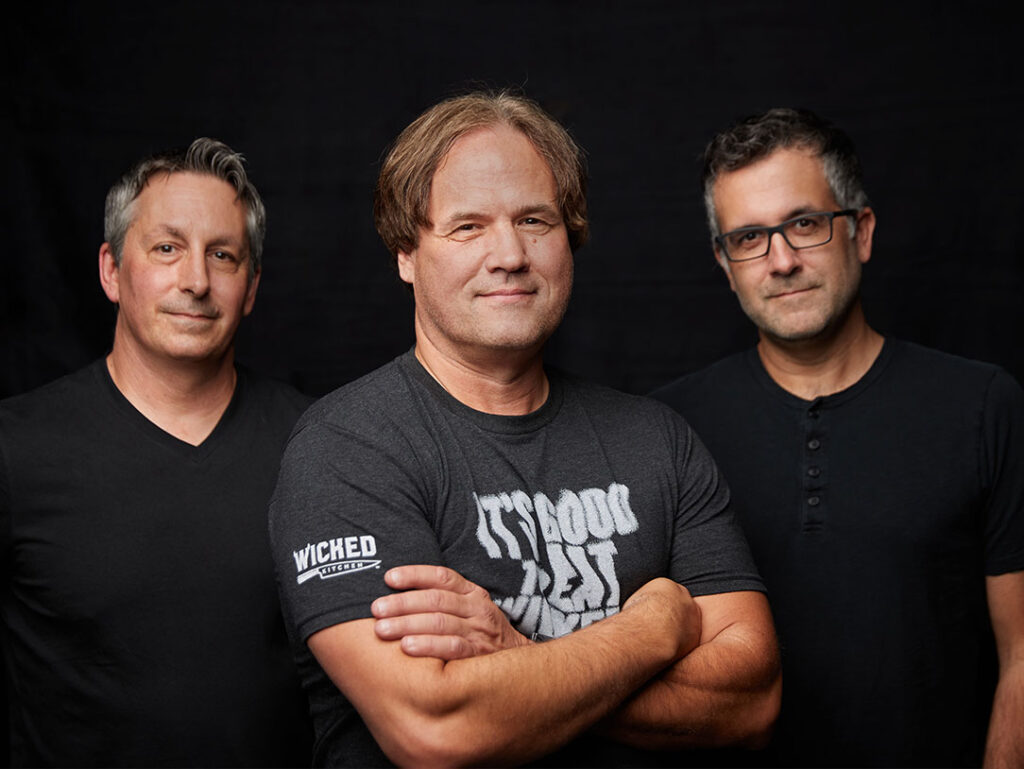 A WIN-WIN
We have been looking for ways to serve U.S. sports teams, and the Timberwolves were eager to provide plant-based options for fans: A win-win for everyone. "It's an honor to provide our hometown team with a Wicked experience that fans will love and crave," said Wicked Kitchen CEO Pete Speranza. "We know our foods will quickly be fan favorites and on par with the amazing team this year. More and more players are moving to eating plant-based, and we want to give the fans the same opportunity."
The Wicked Kitchen concession features elevated gameday favorites like plant-based subs, burgers and ice creams, all created by our talented vegan chefs, Chad and Derek Sarno. Chad, the chief culinary officer and co-founder at Wicked Kitchen, is overseeing the menus. Wicked Kitchen menu items will also be served in the Club Level and VIP Lounge at the stadium.
Here's The Wicked Kitchen Target Center Menu
Grilled Chorizo Brat – plant-based bratwurst with spicy harissa mayo, sautéed peppers and onions, topped with crisp shaved lettuce on a sub roll
Jalapeño Gouda Burger – plant-based juicy jalapeño patty, melted vegan gouda cheese, crisp lettuce, vine-ripened tomato, sliced onion, topped with creamy, zesty Wicked burger sauce
Meatball Sub – plant-based Italian seasoned meatballs drenched in Wicked's famous Nana's red sauce and topped with parmesan on a garlic-butter sub roll
100% Plant-Based Ice Cream Novelties:
Berry White Stick – vanilla ice cream with raspberry swirl in dipped in white vegan chocolate
Chocolate & Almond Stick – vanilla ice cream with toasted almond dipped in milk chocolate
Chocolate & Red Berry Cone – chocolate ice cream, red berry sauce and chocolate chips in a gluten-free cone
THE BEST PLANT-BASED STADIUM FOOD EVER
"With this menu, we pushed the boundaries of traditional game day favorites for bold-flavored offerings that are good for the planet and free from animals," said Sarno. "We are offering the best sporting arena concession items in the country and upping the game with additions such as our harissa mayo on bratwurst, our secret sauce and gouda on the burger, and our Nana's red sauce to our meatball sub, all vegan."
In addition, Wicked Kitchen will have an ice cream cart at Target Center, featuring our first-to-market plant-based ice cream novelties made with a proprietary blend of premium ingredients including a lupini bean base that provides extraordinary creaminess and mouthfeel, without the usual soy or coconut aftertaste that comes with many non-dairy ice creams. The ice creams are also available at three other locations within the arena.
We're so stoked to inspire people to eat more plants by bringing great-tasting vegan food to sports stadiums. Look for Wicked Kitchen foodservice options coming to more venues soon!