Wicked Kitchen® has acquired Good Catch®, the leading plant-based seafood brand! As of today, these two pivotal brands have joined forces in a shared mission to improve the lives of humans and animals everywhere. Together, we now offer the world's largest variety of animal-free products of any plant-based food brand!
We're making a big splash and proud of it. This acquisition extends Wicked Kitchen's multi-category plant-based offerings to frozen and ambient seafood products, enhancing our expansive portfolio of meal solutions and ingredients.
BETTER TOGETHER
It has long been the dream of founding chefs and brothers, Chad Sarno and Derek Sarno, to combine forces and bring these two purpose-driven brands under one roof. Both brands now support a single mission: to create amazing foods that work towards improving the environment and the lives of humans, animals, and sea life everywhere by inspiring the world to eat more plants.
"By folding Good Catch's plant-based seafood offerings into Wicked Kitchen's North American footprint we will have the largest variety of animal-free consumer packaged goods in the industry available at more than 30,000 distribution points," said Pete Speranza, CEO of Wicked Kitchen. "The two brands' product lines complement each other and are 100% accretive, and the breadth of products across departments – from appetizers to desserts and everything in between – allows us to provide great-tasting food that appeals to everyone."
Wicked Kitchen will take over Good Catch's brand in North America under Speranza's leadership. This will allow for more opportunities to ramp up product innovation, research, and development as well as food service with Chad Sarno at the helm. With its regional and national food service and restaurant partnerships, including a previous alignment with Long John Silvers, Good Catch brings seasoned expertise to help accelerate Wicked Kitchen's presence in that category.
"When creating Wicked Kitchen and Good Catch, our goal for both brands was to develop culinary-driven, industry-changing products that would challenge the way consumers think about their food choices and experiences," said Chad Sarno, who will be the chief culinary officer for both brands. "By coming together as one team and one mission, we will have a broader positive impact."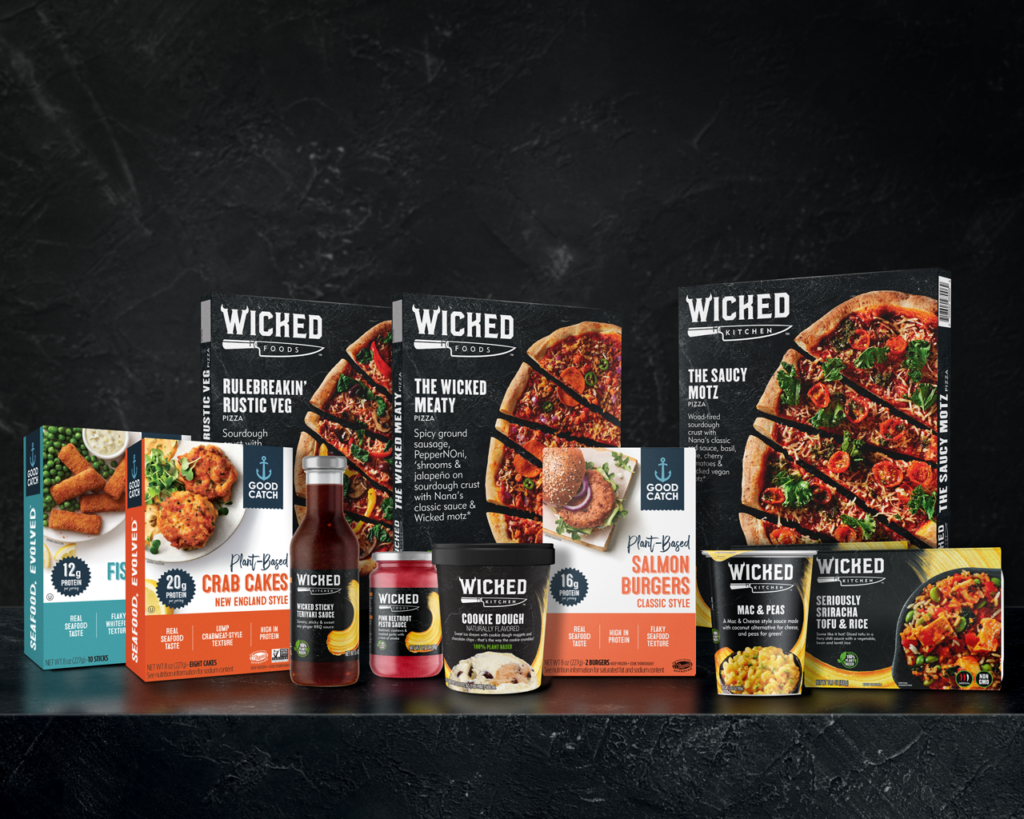 ONE FAMILY, LAND AND SEA
While the two brands will prioritize working together on product innovations that are always animal-free, particularly in the frozen and ambient foods categories, we will continue to operate business as usual in terms of branding, current product availability, distribution, and fulfillment.
In business terms, Gathered Foods, the parent company of Good Catch, will become a shareholder of Wicked Kitchen and will gain a seat on the company's board. Gathered will focus on its core strength in development and production of exceptional and innovative plant-based proteins.
"Gathered Foods is a leading pioneer in plant-based proteins," said Chris Kerr, Gathered's executive chair. "Wicked's greatest strength is consumer reach, branding, and most importantly, culinary delight. Together, this is an outstanding path forward allowing both companies to bring their greatest strengths to the consumer market. This partnership with Wicked is the first of several steps Gathered is taking in this direction."
A little history… Wicked Kitchen was founded in 2017 and launched in U.K.'s Tesco grocery stores a year later. The brand expanded into the U.S. market in 2021, tripling distribution to more than 6,500 retail stores in the U.S., as well as Finland and Estonia. In fall 2022, the brand is also launching in Thailand! Currently, Wicked Kitchen offers more than 40 products in the U.S. at Kroger and its national banner stores, at Sprouts Farmers Market stores, and we recently launched into Giant, Publix, and 7-Eleven stores as well.
Good Catch has also grown its retail footprint exponentially since entering the market in 2019, allowing consumers throughout North America to enjoy its innovative plant-based seafood offerings. Good Catch products are sold nationwide in the U.S. at leading retailers including Whole Foods Market, Sprouts Farmers Market, Giant, and in nearly 500 Tesco stores in the U.K. The products are also sold under the Swell Catch brand in Canada.
"By bringing Wicked Kitchen and Good Catch together, we are incredibly excited to embrace being true thought leaders in the plant-based space with our approach of creating culinary-forward foods with broad appeal for all to enjoy," added Speranza.