Print
Hydrate the Soy Chunks
To make sure the soy chunks taste super meaty, we're going to rehydrate them in a delicious broth. First combine some marmite, bouillon, and shiitake mushrooms with some boiling water. Mix well to make sure everything is dissolved then add the soy chunks and cover. Soy chunks are a great source of protein and are super low in fat.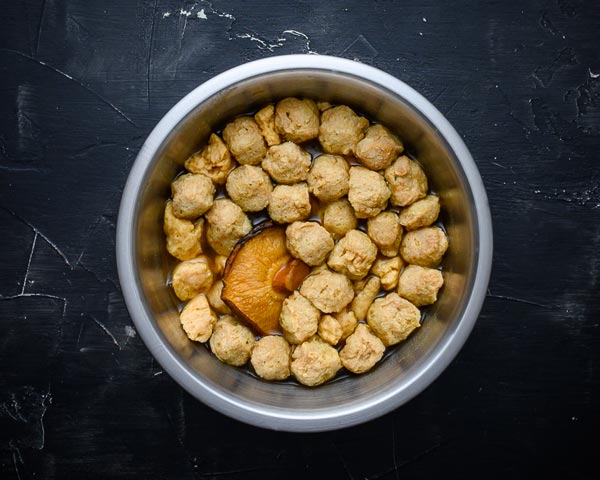 Fry off the Onions and Garlic
I like to use shallots in this recipe as they keep their shape in the pie and have a bold aromatic flavour. I also love the depth bay leaves bring, so be sure to add these here.
Add the Soy Chunks and Veggies
When selecting a potato to use in this recipe, make sure it's a "waxy" variety. Fluffy, floury varieties will disappear when cooked and make the filling stodgy and pasty.
Add the Flour and Herbs
You can definitely go rogue and use your favourite herbs here. If you have fresh herbs growing in the garden, why not use those? Rosemary and thyme would also work great in this recipe. Be sure to stir the flour into the mixture well and coat all the ingredients properly.
Add the Liquids
Before the flour burns, add your liquid ingredients. I use a nice vegan red wine (but not too nice obviously!) and some dark soy sauce. You'll also be throwing in the reserved soaking broth from the soy chunks here, for extra umami!
Cool the Filling
It's important to cool the filling properly before topping with the pastry. If heated up before baking, the pastry will begin to leak oil and won't rise to it's crispy puffy potential. The filling will cool quickest in a shallow baking tray.
Top with Pastry and Bake
I like to score my pastry lightly before baking, this way you get much more texture on the final baked pie. Lay the pastry over the filling and crimp the edges with a fork. Make sure you pierce a small steam hole in the centre and brush with your vegan egg wash.