Print
Start with the filling. This is essentially just like making pecan pie filling. You want to make a simple brown sugar caramel first by melting the butter and sugar together along with the pecans. Then you'll add some plant milk mixed with corn starch to help thicken everything up!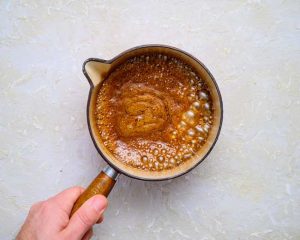 We're using store-bought, pre-rolled pastry here (always make sure the variety you're using doesn't contain butter). Get an extra-large one if you can! Unroll it and divide it into 8 rectangles.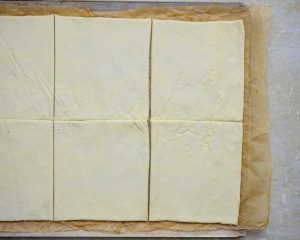 Without cutting the dough, divide each rectangle into thirds. I like to just make two gentle vertical indentations with a chopstick. Then, you want to make sure the two sides of the rectangle are sliced into 8 roughly even-sized notches.
Spread some of your cooled fillings in the center third of the pastry and fold down the top two notches like below. I like to pinch them closed at the top to minimize leakage.
Repeat the folds with the bottom two notches and pinch shut there also.
Work your way up the pastry, alternating left notch over right notch until you've completely covered the filling.
Finally, brush the pastries with a little vegan "egg" wash and sprinkle with broken pecans.
Bake for around 20 minutes at 200c or until everything is looking puffed and golden brown! Expect some leakage from these guys! It's impossible to perfectly seal them but that's ok! They'll be delicious regardless. Allow them to cool completely before serving. They'll taste MUCH better that way I promise!