From America to Australia and Britain to Finland, ice cream is one of life's sweetest treats for people of all ages around the world. But the dairy products in traditional ice cream make it a no-go for vegans and those with lactose intolerance or dairy allergies. That's one reason we're so thrilled to share our delicious vegan ice cream option with the world. It's sweet, creamy, dairy-free, and sure to please your palate while also honoring the planet. Our secret ingredient? Lupini beans. Here's the scoop on this innovative plant-based ice cream base. It's so rich and creamy, that you won't believe it's vegan!!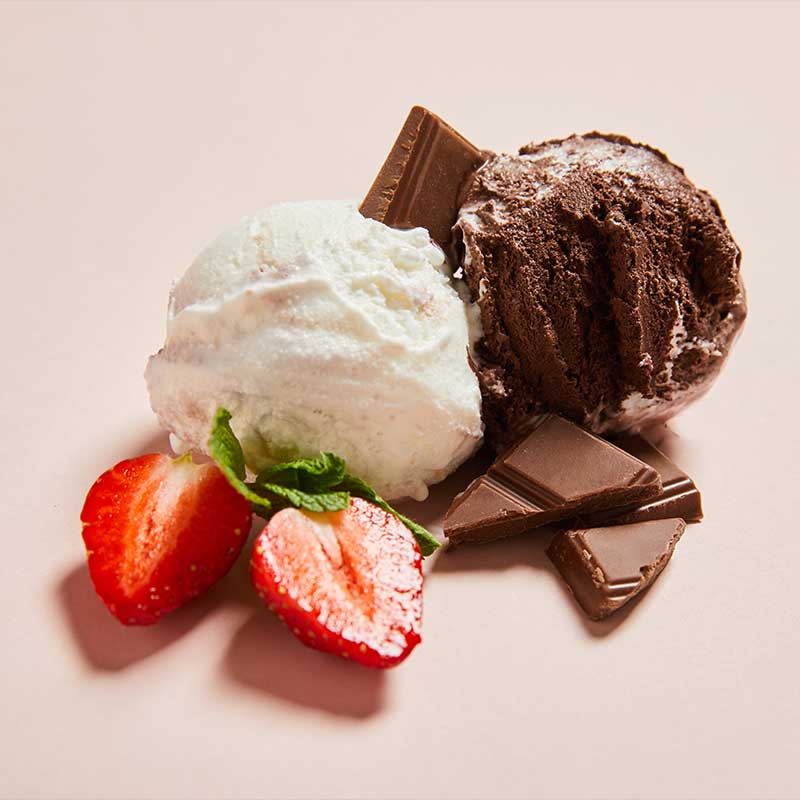 What is Vegan Ice Cream?
Vegan ice cream honors the philosophy of using animal-free alternatives while still providing a delicious dessert. We developed our vegan ice cream recipes without using any dairy products or animal by-products of any kind. That means Wicked Kitchen™ ice creams do not include butter, milk, cream, honey from bees, or any other animal by-products. They are 100% vegan.
You don't have to be a committed vegan to enjoy vegan ice cream. The occasional vegan food choice, whether it's avoiding meat or dairy products, can be completely satisfying. Vegan options can also reduce your carbon footprint significantly and may even improve your personal health. There are other potential benefits, too. Obviously, it helps the animals, and vegan ice cream serves as a satisfying dairy-free option for those who are lactose intolerant or sensitive to dairy products.
What is vegan ice cream made of?
When you think of what ice cream is made of, you likely go through a checklist in your mind of animal-derived products like cream, butterfat, milk, and/or eggs. It may leave you wondering what is left as an available option to create ice cream without the usual list of mammal and bird by-products. Fortunately, there are many different alternatives that can create delicious create vegan ice cream. Here's a quick look at some of the more traditional vegan ice cream bases, plus a deeper dive into our secret plant-based protein, lupini beans.
Soy: Made from extracts of soybeans and other vegetable-based ingredients, soy ice cream can be a tasty alternative to dairy-based ice cream, especially for those who are intolerant to milk, milk proteins, and lactose.
Coconut: Coconut milk makes a fantastic substitute for heavy cream in both sweet and savory dishes such as smoothies, milkshakes, and you guessed it, ice cream.
Cashew: Cashew milk can be used as a tasty base for vegan ice cream as well. It has a nice buttery/nutty taste and pairs well with sweet and salty additions.
Almond: Almond milk can be somewhat thin in texture and is often combined with the other plant-based milks mentioned above to create dairy-free ice cream.
Oat: Oat milk is made from grains rather than nuts or beans. For that reason, it is lower in protein than other plant-based milks but still makes tasty plant-based ice cream.
Lupini beans: Here at Wicked Kitchen™, we take a different approach by using a new, innovative option for the base of our vegan ice creams. In fact, we are the first company in the United States to release a line of plant-based ice creams made with lupini beans. These Mediterranean white beans have been around for centuries and they have an incredibly rich, smooth, and creamy texture that gives our ice creams a satisfying mouthfeel very similar to that found in dairy ice creams. Lupini beans also boast health benefits that are in many ways superior to the above-mentioned bases in regards to protein, fiber, and vitamins, while remaining low in sugar and low in fat.
We seem to have struck a chord because lupini beans are rumored to be taking over the plant-based protein market. According to information compiled by Superfoodly, lupini beans have more protein in a 100-calorie serving than other popular legumes, including the soybean option we mentioned above.
Beyond being a complete protein, lupini beans are also high in fiber, exceptionally rich in antioxidants and immune-boosting properties, and they contain no sugar, making vegan lupini bean-based ice cream a nutritious and flavorful addition to a diet.
Are Lupini Beans More Sustainable than other Bases for Vegan Dishes?
Lupini beans have several environmental benefits for farmers and for the environment. Growing them takes less water than many other crops, and they can help to enrich the soil and reduce greenhouse gas emissions. That means lupini beans are not only more protein-rich than soy, but they're also an incredibly sustainable food because they are used as a rotation crop that benefits the health of the soil.
Does lupini-based Vegan Ice Cream have an aftertaste?
Have you ever tried an alternative to dairy ice cream that didn't taste quite right? You probably expect some classic foods to fall short when replaced with vegan options. However, with our Wicked Kitchen™ Ice Dreams, we took on the challenge to leave no aftertaste like other plant-based ice creams do. Try them and you'll see!
The sweet lupini bean provides a remarkably balanced flavor, vital for vegan ice cream, while also creating that creamy consistency we all know and love with every scoop. Add in the nutritional benefits of lupini beans, and you've got a healthier option than most summer desserts.
So, is vegan ice cream healthier?
In short, yes. Compared to traditional dairy ice cream, vegan ice cream is, in many regards, a healthier option. Susan Levin, director of nutrition education at PCRM (Physicians Committee for Responsible Medicine) shared in a recent article that "there are components of dairy that are inherently unhealthful, which are absent from plant-based products." While there may be a bit of a "health halo" around the word vegan, it is still important to weigh the nutritional value of what each person consumes. For instance, lupini beans may be an allergen for a small percentage of people. If you have dietary restrictions, we recommend that you read our ingredient list as well as the ingredient list of any products that you consume.
Where can I try vegan ice cream made with lupini beans?
Wicked Kitchen™ has partnered with Kroger, one of the largest grocery chains in the United States, to launch our lupini-bean-based vegan ice cream. Take a stroll through the frozen section and grab your fill of Vanilla, Chocolate, Mint Chocolate Chip, Cookie Dough, and Birthday Cake flavors. The line of Wicked Kitchen™ vegan ice creams carried by Kroger also features novelties such as our Chocolate & Red Berry Cones, S'mores Cones, and hand-held sticks in two flavors: Chocolate & Almond and Berry White. Wicked Kitchen™ ice cream products are also available in the United Kingdom at Tesco, the UK's largest grocer, and in Finland at SOK, the largest grocer in that country. No matter where you shop, Wicked Kitchen™ vegan ice creams offer the creaminess and satisfaction of classic ice cream along with the powerhouse nutrition of lupini beans. Grab this guilt-free, gut-healthy, plant-based option on your next shopping trip!