Print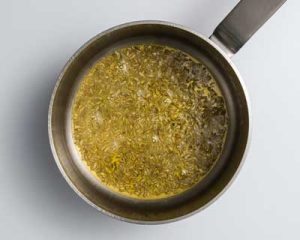 For added texture and bold fennel flavor, I like to toast some fennel seeds to add to the top of the cooked orzo. To make this a one-pot dish, be sure to do this first in the same saucepan you're about to use for the orzo. Be super careful not to let them burn – just toasty and fragrant is great.
When frying your onions and garlic, don't let them brown. For this recipe, we just want to cook them until nicely softened and fragrant. If necessary, add a tiny splash of water to keep things from catching.
It's best to make sure the fennel is sliced very thinly before adding it to the pan. If you have a Chinese mandoline then use it! If not, use your sharpest knife and go super thin. This way the fennel will almost melt into the pasta.
Like with risotto, don't add all the water at once. It's best to add a little at a time, stirring between additions. Once gorgeously smooth and glossy and the orzo is cooked through, you're good to serve!