Print
The Wicked Kitchen: Episode 1
Before we get into the recipe, we are excited to announce that we've teamed up with www.milliondollarvegan.com to fight climate change with diet change! You can watch the first episode of The Wicked Kitchen and cook along with me (Derek) as I show you step-by-step how to make the Vegan Roast Tofu & Veg recipe described below.
This Ain't Your Grandma's Tofu!
Forget what you think you know about tofu! This is next-level "FU of TO" (as only I call it) and it's taking center stage. It's flavour-ific, bean curd reimagined! This recipe is well-seasoned to harken back to the nostalgic Sunday roast dishes we ate as kids. And now we've recreated those familiar flavours the only way we know how—by giving it a wicked, plant-based twist! The results are in: it's friggin' awesome!
Under (Pan) Pressure
Bowie approved, we think The Wicked Pan-Pressing Technique™ enhances the taste and texture of most vegetables…and especially mushrooms. Here are three reasons why we tend to use this technique as much as possible:
Cast Iron = HEAVY: Thick cast iron skillets are the best, and we swear by them. Cast iron holds more heat than thinner aluminum alternatives, therefore making it easier to achieve a spectacular sear.
Gentle Weight: Because the cast iron is naturally heavier, we find it's much easier to control the cooking process. You only need to use gentle weight to get the right results and the pan does most of the work! Work smarter, not harder, people!
Science-y Stuff: Pressing things against a rippin' hot surface naturally speeds along the cooking process. The added pressure drives water out, while simultaneously letting more delicious flavors soak in. It's just science.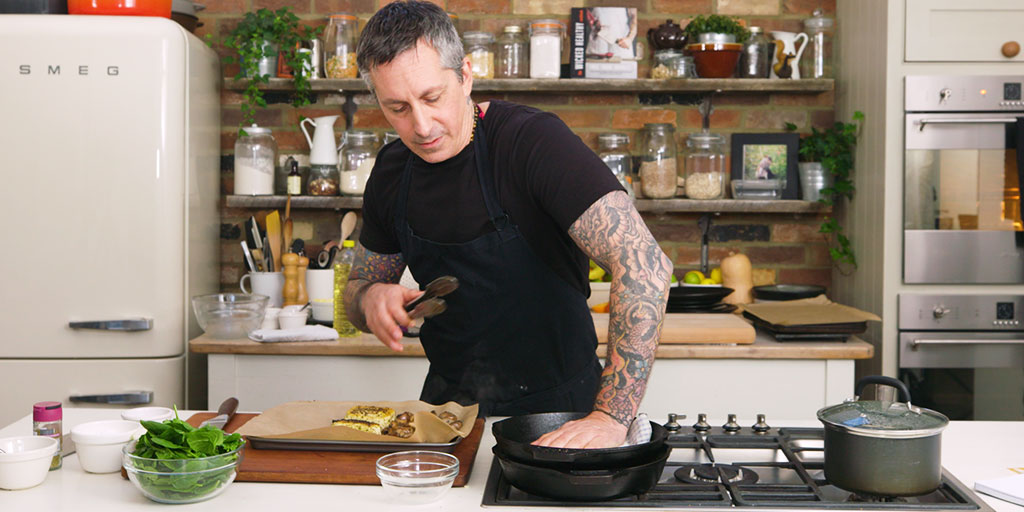 Don't worry if you don't have two cast iron pans—it can still be done with two regular skillets or a combination of a pot and skillet. Just pay special attention to the thickness of the bottom pan (the one you're cooking with) and keep an eye out for burning veg!
Thinner pans tend to burn things more easily and heat unevenly, so just be aware. As we get deeper into the series, we'll be sharing more tips, techniques and how-to's that are easy to accomplish with cast iron and other everyday equipment.
You got this!
Vegan Eating Made Easy
Please share this with friends, family, and anyone that's looking for delicious ways to eat and prepare more vegan plant-based foods. We're chefs that have been practicing this craft our whole lives and we want to benefit you and the animals. Small steps make big changes! Thank you for supporting!
– Derek