Print
When I first moved to Oregon, I had only dabbled in playing with mushrooms and most of those were the usual suspects: buttons, shiitake, portobello and the occasional oyster. I had only dreamed about romping in the woods and hunting the only way I could … foraging. Now edible, wild and cultivated shroomz have become the center of my attention and have taken a good portion of my time on RnD since going full time with Wicked Healthy.
I look forward to getting out into the old growth forests of the Pacific Northwest as much as I can for my sanity and my newest concoctions. I'm no expert at any of this foraging stuff (maybe one day), but I aspire and hope to meet some Mycologists, like the famous Paul Stamets, to help me understand and identify these beasts a little more. I look forward to learning more about how to apply these meaty wonders of the world to our Wicked Healthy mission of creating sexy, sustainable alternatives to eating animals. I've been doing alright working in the kitchen but I have lots to learn and the patience of a flea, so until I can can learn more from the experts I'll keep enjoying my trial and errors in the culinary sense.
I've had some really great revelations working with and cooking mushrooms as meat and, as much of a novice as I am, I do believe they are the best, all-natural alternative to meat. If I'm ever lucky enough to cook for you, I hope to show you how amaze-balls all mushrooms are … I believe the answer and best method is to cultivate and err on the side of compassion instead of killing! It'll take redirecting some energies on peoples parts and realigning focus to cultivation, which is all possible! And I feel we're just starting down that path. I am hopeful and will continue doing our part in showing these meaty magical mushrooms and how they can translate to our plates.
Here's what I did with what we found on a recent forage. You'll find the recipe at the end of this post, but first let me take you through a recent foraging trip I took with my friend, Brian.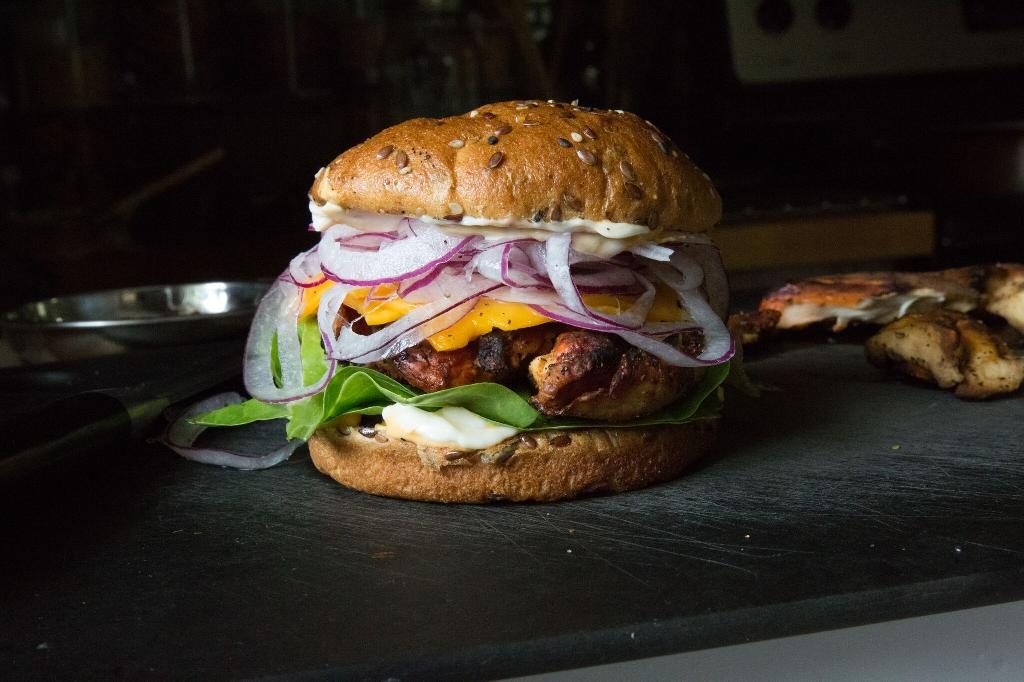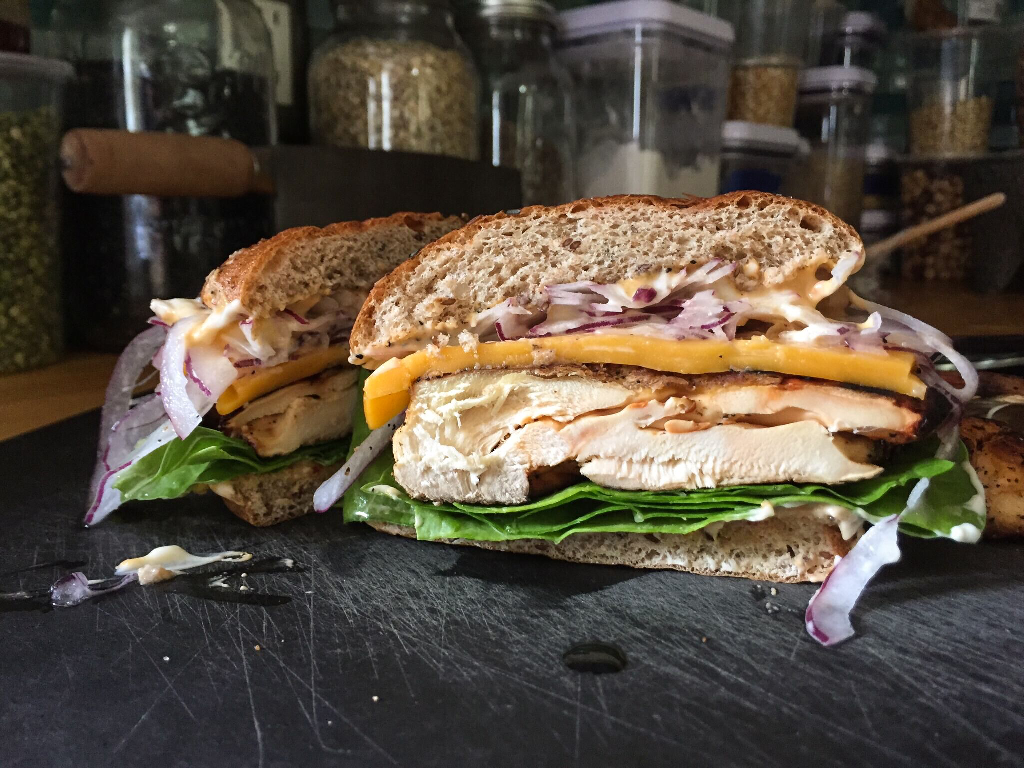 There is something mystical in the forest. It reminds me of being on the ocean back in my lobster fishing days. Nothing but trees and wilderness around you and only the quiet softened rumblings of nature from time to time. Calming and earthy, I find peace in the seclusion of the woods and all it offers.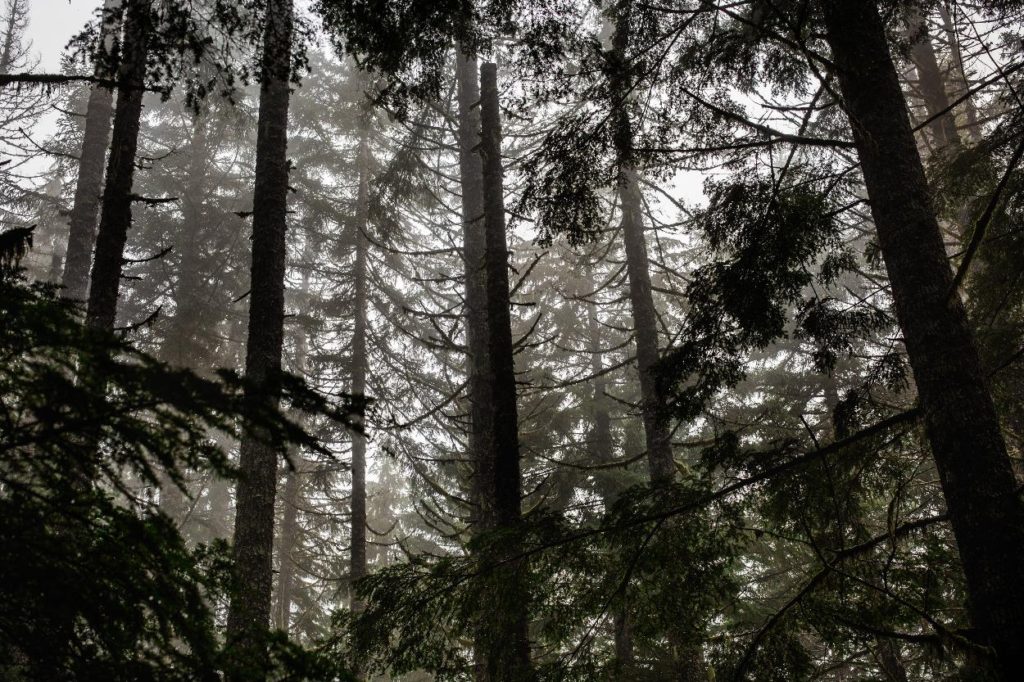 There are so many types of mushrooms and when you come across one that you recognize, it's exciting!
Our friend Brian holding up the treasure chest we found.
Today's haul included Chanterelles, Lobster mushrooms and a good amount of Chicken of the Woods.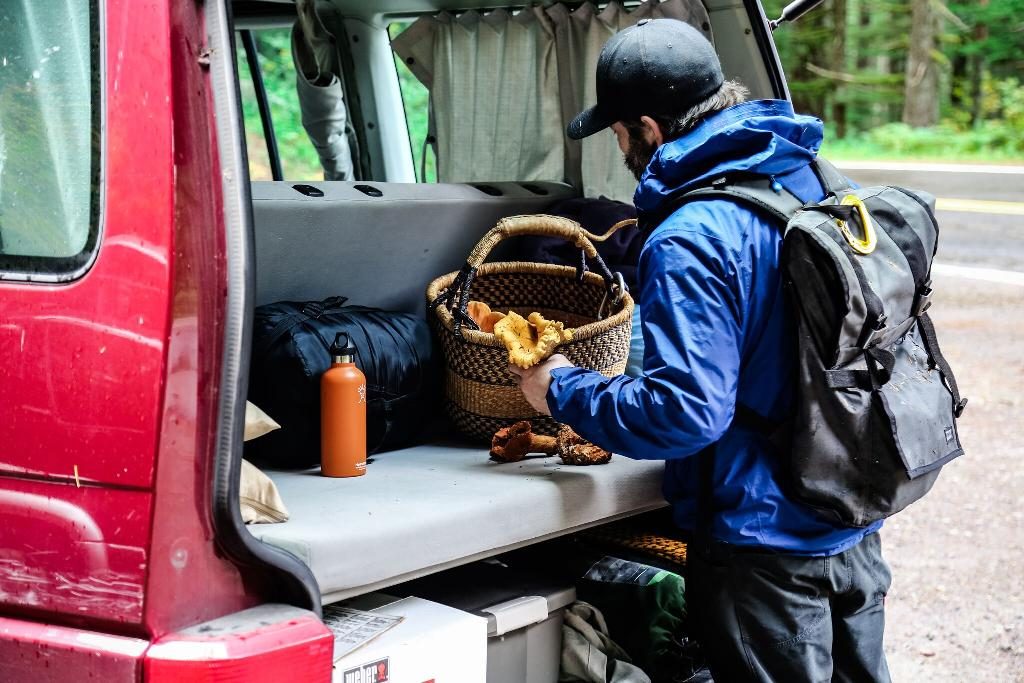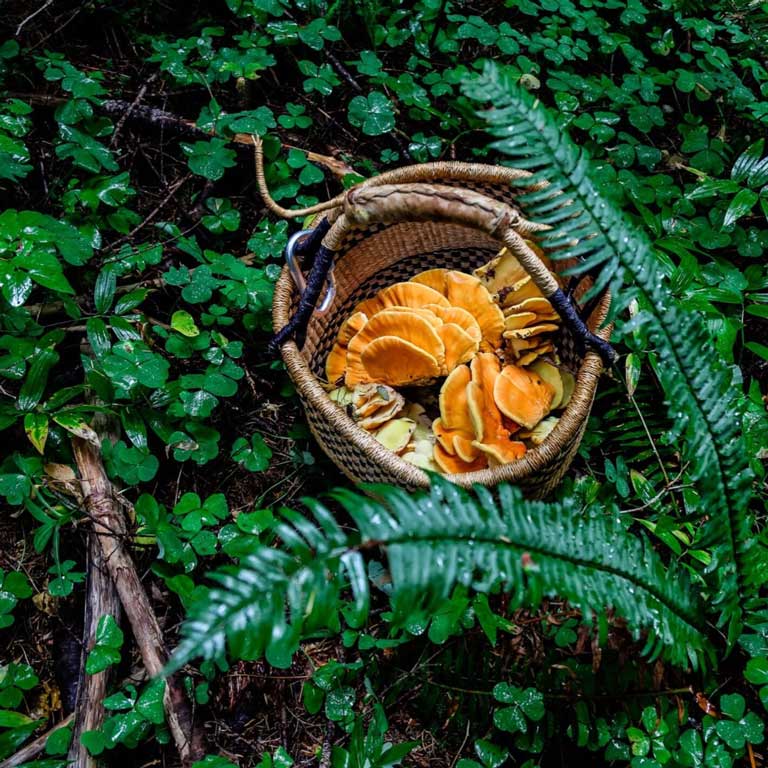 First things is first. Clean the mushrooms.
I know lots of folks say not to wet the mushrooms, but when they're dirty enough I brush off what I can, remove all sticks and pine needles and, if needed, dunk 'em in the kitchen sink filled with water then lay 'em out on a towel or paper bags to dry for a few hours.
I've had much luck with the new patented Wicked Healthy press and cook method with other mushrooms like Maitake and oyster which you can see below:
So i'm applying the same techniques to the Chicken shroomz. Heat a cast iron on medium heat, add a bit of oil and seasonings. Then press to cook, flipping every couple minutes and finishing off in the oven with these babies. See the full recipe on how to prepare these Grilled Chicken of the Woods Sandwiches above!