Print
The shortbread dough is insanely easy to make, but forming the coil can be a little fiddly. Start by making the vanilla dough. I like to use a food processor as it guarantees a super even crumb and very little effort. Be sure not to keep the processor running after the dough has formed. Wrap the dough well and chill it in the fridge for at least an hour.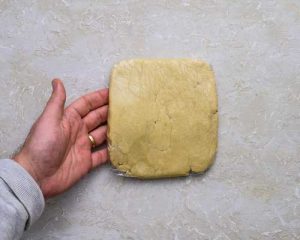 Next, make the chocolate dough in exactly the same way. I found the chocolate dough requires a little more water to bring it to the same texture as the vanilla.
While the dough chills, make the hazelnut crunch. Again, we're using the food processor. It's important to use hazelnuts that are blanched and peeled – try to avoid hazelnuts with their brown shells still attached.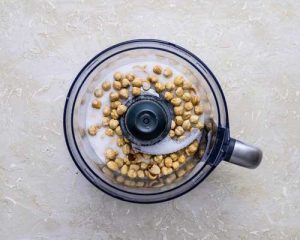 Roll out the dough to around 20 x 30cm, brush one layer with plant milk and then sandwich the two pieces together. Lightly roll them together with the rolling pin and trim off the rough edges so you have a neat rectangle.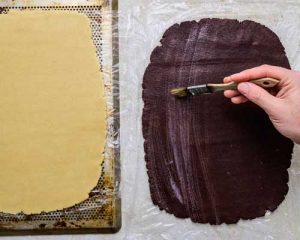 Use the bottom layer of cling film to roll up the dough, starting with the long edge, making sure it's very tightly wrapped. Place the roll in the fridge and chill again for an hour.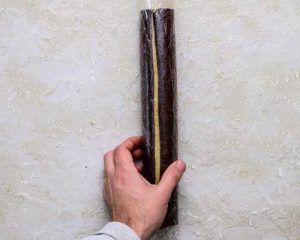 Remove the chilled dough and brush it with plant milk. Roll the dough in the hazelnut crunch.
Using a strong piece of fine thread, slice the dough into 1/2cm thick discs. With the thread taught, move it under the roll of dough. Wrap the thread around the top of the dough, crossing the ends of the thread over at the top and pulling gently so it cuts through the dough evenly.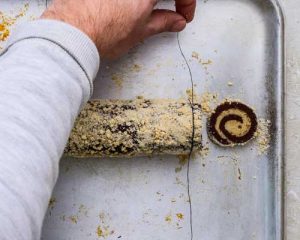 Arrange the discs of dough on a baking tray lined with parchment. Place in the fridge again for at least 20 minutes while you preheat the oven.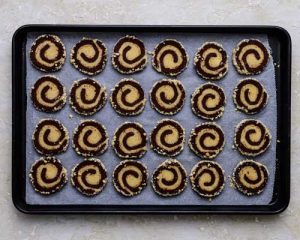 Bake for 18-20 minutes at 160c. Allow the cookies to cool completely before serving.