Stay home, stay safe and treat yourself (and your loved one!) to our Wicked V-day special! Introducing the Wicked Kitchen Valentine's Meal Deal for two, at £15 through the weekend, for all you plant-munching lovebirds! Available across the lovely (and cuddle weather friendly), United Kingdom @ TESCO.
YOUR 100% PLANT-BASED MENU:
STARTER:
Wicked Kitchen Crispy M'shrooms Smoky Ketchup
Golden chestnut m'shrooms in a crunchy garlic, parsley ciabatta crumb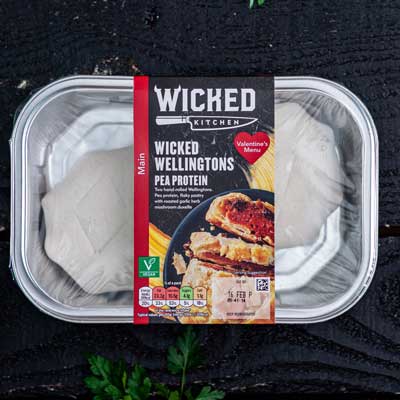 MAIN:
Wicked Kitchen Wicked Welly (serves 2)
Two hand-rolled wellingtons. Pea protein, flaky pastry with roasted garlic herb mushroom duxelles.
WICKED VALENTINES 2021:
Wicked Kitchen Potato & Butternut Gratin
Delicious sliced layers of potato and butternut squash baked in a dreamy herb sauce.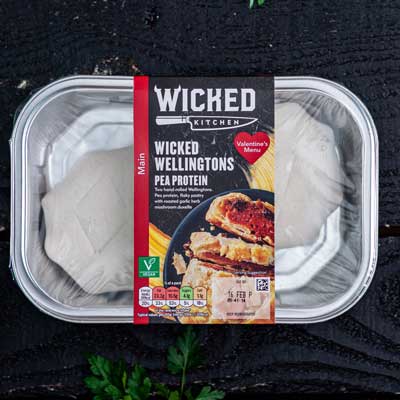 DESSERT:
Wicked Kitchen Chocolate Brownie Heart
Wicked gooey brownie topped with an irresistible rich chocolate ganache and red sparkle. Enjoy hot or cold! Made for chocolate lovers, perfect for sharing!
Enjoy, plant pushers and plant lovers alike! This is love without sacrifice ❤️ Thank you for choosing plant-based! There is no need to eat animals any more, it's 2021 ❤️
SIDE:
Tesco Finest Twice Cooked Chips
VEG:
Tesco Finest Green Veg Trio
DRINK:
Choose from a selection of vegan Finest wine and soft drinks.
Want Wicked Foods in your area? Head here to 'plant your flag'!
Want more inspiration? Check out our Wicked Healthy YouTube Channel!
Get pinning! We're over here on Pinterest.